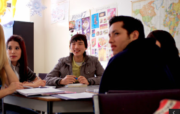 English Level Requirement
This program is designed for students at the lower intermediate level *CLB level 4 [Intermediate] or above.
Students must have at least *CLB level 4 [Intermediate] in order to take IELTS Test Preparation.
*Canadian Language Benchmark Test /Check LCC Level Chart
*Take the free English assessment here: Access – Online English Test
If your English level doesn't fit your chosen program, registrars will give you other options.
*Please make sure to choose the correct registration fee when you checkout.
IELTS (6:30PM- 9:30PM): Registration fee $50
**If you are a Canadian citizen or permanent resident, you will be asked to provide proof of status. Please email your status documents to info@lcc.issbc.org.