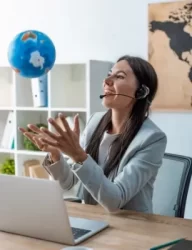 Global Tourism Diploma (GTD)
Develop skills needed to be a productive member of an international travel and tourism team.
Learning Outcomes:
Be aware of specific challenges in tourism-related businesses, and able to plan solutions.
Be able to demonstrate practical skills for event planning, tour guiding, promotion and customer service
Be aware of cultural and social factors affecting global tourism
Have obtained FoodSafe Level 1 certification
Have earned one World Host certificate per cycle of the program
Program Details:
This program provides a background on tourism service suppliers and their social, cultural and political impact, as well as practical introductions to event planning, tour guiding, tourism promotion and customer service. Case studies and common travel problems will be examined. Students are required to do independent activities, graded assignments and/or exams for each course; each student will work on individual as well as group projects. Students can start at the beginning of any week (every week is a different course).
Week 1 – Economic, Environmental, Political and Cultural Impacts
Week 2 – Tourism Sales and Customer Service
Week 3 – Transportation
Week 4 – Attractions and Entertainment; Creating Guided Tours
Week 5 – Food and Beverage Services
Week 6 – Hotels and Other Accommodation
Week 7 – Event Planning and Management
Week 8 – Planning and Connecting Travelers to Services
This course has 3 cycles (fundamental, intermediate and comprehensive level) so a students can study up to 24 weeks without repeating material; GTD can also be taken as part of a co-op program.
English Level Requirement
This program is designed for students at the lower intermediate level *CLB level 5 [Upper Intermediate] or above.
Students must have at least *CLB level 5 [Upper Intermediate] in order to take GTD Diploma.
If your English level doesn't fit your chosen program, registrars will give you other options.
*Canadian Language Benchmark Test /Check LCC Level Chart
All fields are required