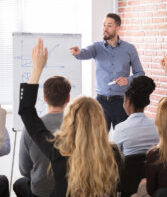 International Business Management Skills Diploma (IBMS)
Learn to manage a business in an international context! IBMS introduces students to practical skills of international workplace management using a communicative approach.
English Level Requirement
This program is designed for students at the lower intermediate level *CLB level 5 [Intermediate] or above.
Students must have at least *CLB level 5 [Upper Intermediate] in order to take IBMS Diploma.
If your English level doesn't fit your chosen program, registrars will give you other options.
This course has 3 cycles (fundamental, intermediate, and comprehensive level) so students can study for up to 24 weeks without repeating material; IBMS can also be taken as part of a co-op program.
*Canadian Language Benchmark Test /Check LCC Level Chart

Before your register, please check if your class is available. 
We apologize if your desired class is unavailable. Please consider taking one of the following courses instead: 
Leadership Preparation Diploma or Global Tourism Diploma
All fields are required