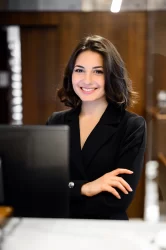 Professional Communication and Marketing Diploma (PCM)
Improve your communication skills while learning about marketing and Canadian workplaces. Our PCM program is for anyone wanting to take their English to a higher level and become more desirable in the workforce.
English Level Requirement
This program is designed for students at the lower intermediate level *CLB level 5 [Upper Intermediate] or above.
Students must have at least *CLB level 5 [Upper Intermediate] in order to take PCM Diploma.
If your English level doesn't fit your chosen program, registrars will give you other options.
*Canadian Language Benchmark Test /Check LCC Level Chart
This course has 3 cycles (fundamental, intermediate, and comprehensive level) so students can study for up to 24 weeks without repeating material; IBMS can also be taken as part of a co-op program.
All fields are required