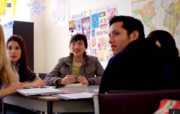 Become more confident speaking English! In our speaking course you'll learn vocabulary, idioms, and how to express what you want to say in a comfortable, friendly environment.
English Level Requirement
English Level Requirement
Students must have at least *CLB level 1 [Beginner] in order to takeGeneral English.
This program has beginner level (CLB 1) class to Advanced level (CLB 7) classes. Your class will be assigned according to your English level.
IMPORTANT: If you are a Permanent Resident, Canadian Citizen or Refugee do NOT register online.
Please bring your ID to our registration office for a discounted tuition price.
At this time our online registration does not include discounted rates for Permanent Residents, Canadian Citizens or Refugees.
*Canadian Language Benchmark Test /Check LCC Level Chart