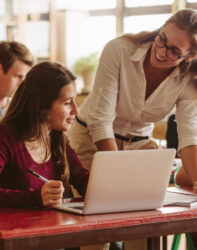 Our TESOL diploma is recognized by TESL Canada, and will prepare you to teach English in Canada and abroad. Graduates who successfully complete their practicum are eligible to apply for TESL Canada Level 1 (Interim) Certification. Please ask a Registrar or our TESOL Coordinator for more details.
English Level Requirement
This program is designed for students at the lower intermediate level *CLB level 5 [Upper Intermediate] or above.
Students must have at least *CLB level 5 [Upper Intermediate] in order to take TESOL Diploma.
If your English level doesn't fit your chosen program, registrars will give you other options.
*Canadian Language Benchmark Test /Check LCC Level Chart
All fields are required